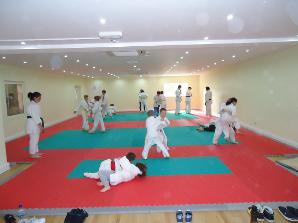 The club was founded by Sensei Bob Marshall and his brother Alan. The first training session was held on Wednesday 7th October 1992 at the Spitfire Centre, Church Road, Biggin Hill where the club trained in the annex using the Centre's mat. The club remained there for four years.
In October 1996 Sensei Alan Marshall left to concentrate on his club in Mottingham. Sensei Bob purchased the club's first mat and supported by Sensei Ian Ferris moved to the Biggin Hill Squash Club in Jail Lane. They were joined by Sensei Debbie Pratt who had trained at the club from a young age and Sensei Carol Hayward as the club's other black belt instructors.
In November 2003, the club became too big for the squash courts, so it purchased it's second mat and moved to Darwin Leisure Centre. In March 2006 the club was awarded a lottery grant to further improve the facilities including state of the art mats, enhanced training equipment and projector and funding to take judo out into the community.
In September 2012 the club moved the Wednesday training session to the new air conditioned hall over at the Biggin Hill Squash Club's premises. The improved facilities were welcomed by all and in April 2014 the Saturday session and Little Dragons moved over to the Squash club.
We run two competitions a year inviting local clubs to come and compete. The club also runs a display team who perform at local events and schools.
The club trains every Wednesday evening excluding Christmas and most Saturday mornings (please see front page for current times). We are a diverse club offering places for young people and adults of all abilities and also cater for those with disabilities or learning difficulties.
Contact us if you would like to come along for a free taster session