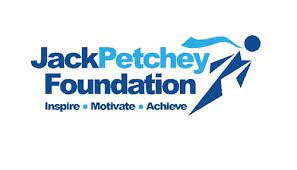 JACK PETCHEY ACHIEVEMENT AWARD
The Jack Petchey Foundation was established by the successful East London entrepreneur, Jack Petchey, in 1999. It is now among the largest and most influential London charitable foundations.

It gives grants on projects and programmes that benefit 11-25 year olds. The Foundation is eager to help young people take advantage of opportunities and play a full part in society.
The club is on the 'Bronze Award' with three awards presented every year. Winners are voted for by the students. The award is for students aged between 11 and 25 in recognition of achieving the three E's:-
Effort; What you put into the club through training and support
Endeavour; Working through difficulties, striving to achieve your goal
Exceptional achievement; This is about the outcome of the other two Es.
The winners receive a certificate from the Foundation and a Cheque to be spent on the club or other students. At the Annual Awards ceremony in November, a formal presentation of a special boxed medallion will be made to the year's winners.
Previous years winners can be found on the 'Previous Award Winners' Page under Jack Petchey Awards.
Jack Petchey Achievement Award Winner - Spring 2021 - Matthew Bennett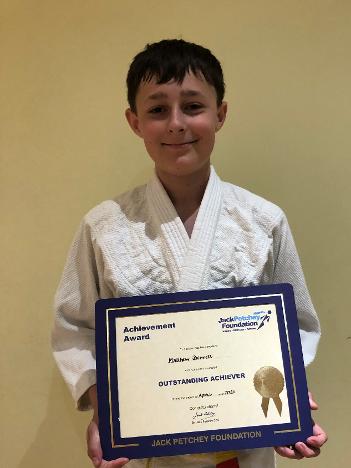 Matthew Bennett
Matthew has ben a member of the club for over 10 years where he has been a valuable member assisting the class with warm ups and helping other students.
During lockdown Matthew has gone out of his way to support others. This includes providing help to his eldest sister and her new baby, such as feeding and comforting the new born. He set a daily alarm to ensure he rigidly kept to his school regime which ensured he achieved great grades over the period.
He has provided help to his close friends by keeping in touch either through walks when restrictions allowed or through gaming. He also volunteered to help his mum at the local animal rescue centre looking after the cats.
Overall it is his irrepressible good humour and positive outlook and willingness to get on with things that his family feel have helped them get through the last years events.
It has been decided to spend the money on a new banner for outside the club, opposite the Secondary School and to buy new leaflets. This is to try to increase the number of 11-18 year old students attending the club which has seen a significant drop in numbers during the Pandemic.
Jack Petchey Achievement Award Winner - Summer 2021 - Gulsen Sessacar
Gulsen Sessacar
Near where Gulsen lives is a paddock where a couple keep horses. During the pandemic the couple contracted the virus and had to go into isolation. Gulsen undertook to care for their horses as they were not allowed out due to isolating.
This went on for a period of over two weeks and required her to visit the horses twice a day. Her work involved letting them out and brining them back in of a morning and evening.
She had to clean the stables and provide fresh feed every day. She had to ensure they also had clean blankets and also had to groom them daily.
She also had the unenviable task of keeping the field clean of horse manure and ensuring the horses were safe. She also had to exercise them several times a week. She undertook this role without any thought of remuneration and had to been done around her school work. An excellent example of a selfless act for others who found themselves in a difficult and new situation due to the pandemic.
It has been decided that the award will go towards an afternoon out on Saturday 26 Juneat Sparrows Den Enchanted Village Adventure Golf where members of the club can play either the enchanted village course or play golf football. This will be followed by a picnic in the park opposite for those who wish to take part , subject to outdoor gathering and distancing rules.